Learn, evaluate, prototype, experiment, test, and run workloads on the latest QCT platforms
QCT DevCloud Program is an engineering collaboration program which provides a bundle of QCT precompiled workloads and development toolkits. It aims to assist users in evaluating and testing workloads and exchanging user workload experiences with QCT infrastructure experts. It also provides access to Intel® Xeon® Scalable processor platforms that also support several key technologies for HPC, AI and DA workloads.

Fig. 1 QCT DevCloud Key Benefits
The QCT DevCloud system architecture is designed to provide a scalable and efficient platform for testing HPC, AI and DA workloads. With the comprehensive computing , storage, networking hardware platform and software stack provided by QCT DevCloud, users can access the resources required for workload evaluation and testing without building on-prem HPC clusters themselves, speeding up the development process.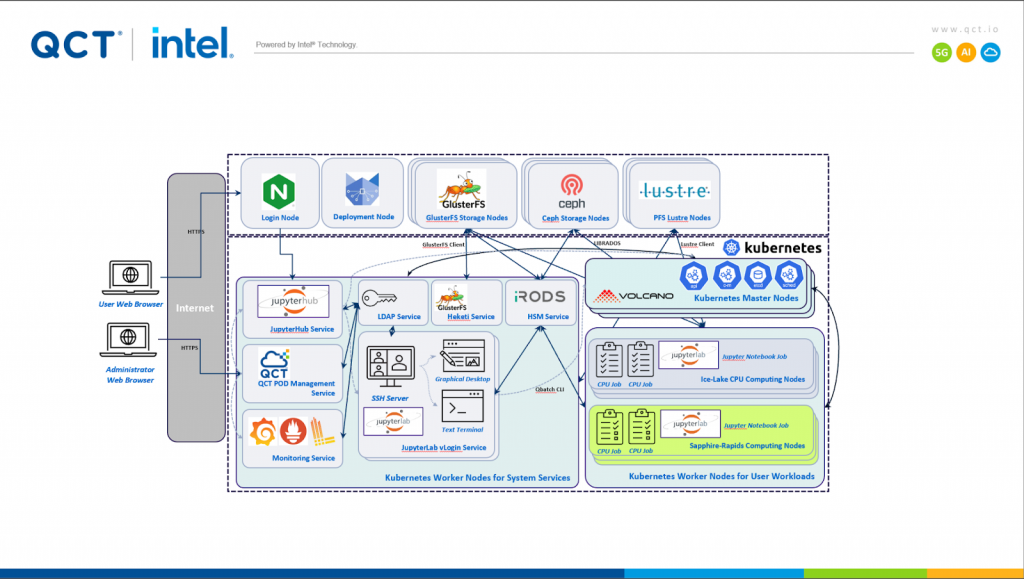 Fig. 2 QCT DevCloud System Architecture

QCT DevCloud provides users with a heterogeneous platform powered by the latest Intel® hardware, allowing users to access a variety of compute nodes and storage solutions to evaluate their workload resource requirements, which helps reduce capital expenditures.
QCT DevCloud supports both cloud native and baremetal environments, featuring precompiled workloads and development toolkits such as Intel® oneAPI Toolkits for users to develop and test their applications. The quick provisioning and scaling of resources also helps meet the demands of various HPC and AI workloads, saving time and resources for the users. As a result, users get to leverage the latest technologies and resources to develop and test HPC and AI applications.
QCT DevCloud Program provides access to the latest QCT QuantaGrid family of servers powered by Intel® Xeon® Scalable processors that deliver the performance and memory capacity for the most compute-intensive workloads. Several key Intel technologies are supported on the Xeon platform, such as Intel® Software Guard Extensions (Intel® SGX) and Intel® Advanced Matrix Extensions (Intel® AMX) which enhance the security level and accelerate the development of HPC, AI and data analytics workloads. Besides, Intel® oneAPI offers a powerful software stack, increasing productivity for the development journey in a heterogeneous infrastructure.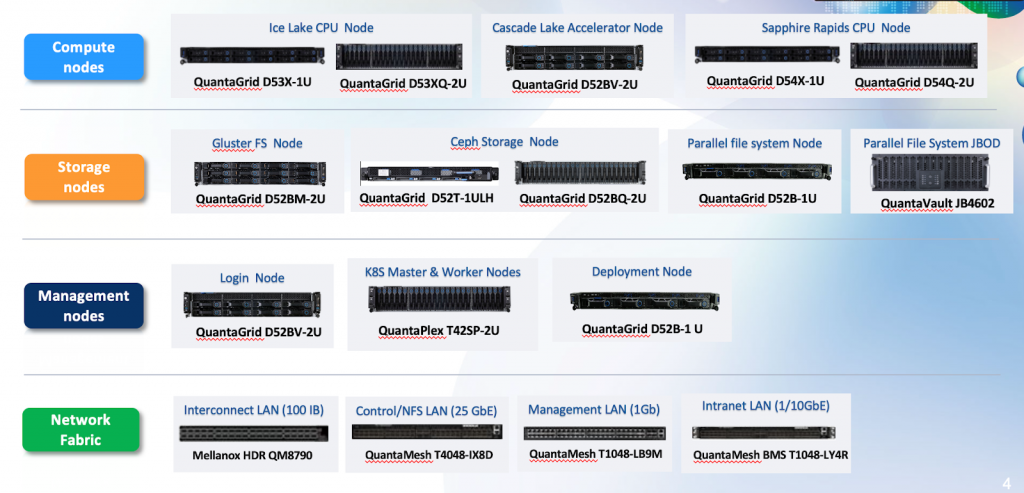 Fig. 3 DevCloud System Components 
Register here to join the QCT DevCloud Program and get started.