At Q.synergy 2017, Mike Yang, President of QCT, delivered a keynote where he announced the release of Rackgo R.  During the speech he also shared his views with customers, partners, media, and analysts on how QCT can help CSPs and telcos quickly move their business to the cloud and make the best use of available services.
Cloud-based technologies will enable companies to make more actionable decisions and embrace automated management, agile innovations, and an open ecosystem. In the last decade, cloud computing has come to be viewed as a revolutionary technology driving the evolution of the IT industry. However, difficulties in application migration and other factors result in a less than ideal number of applications to be currently running on the cloud.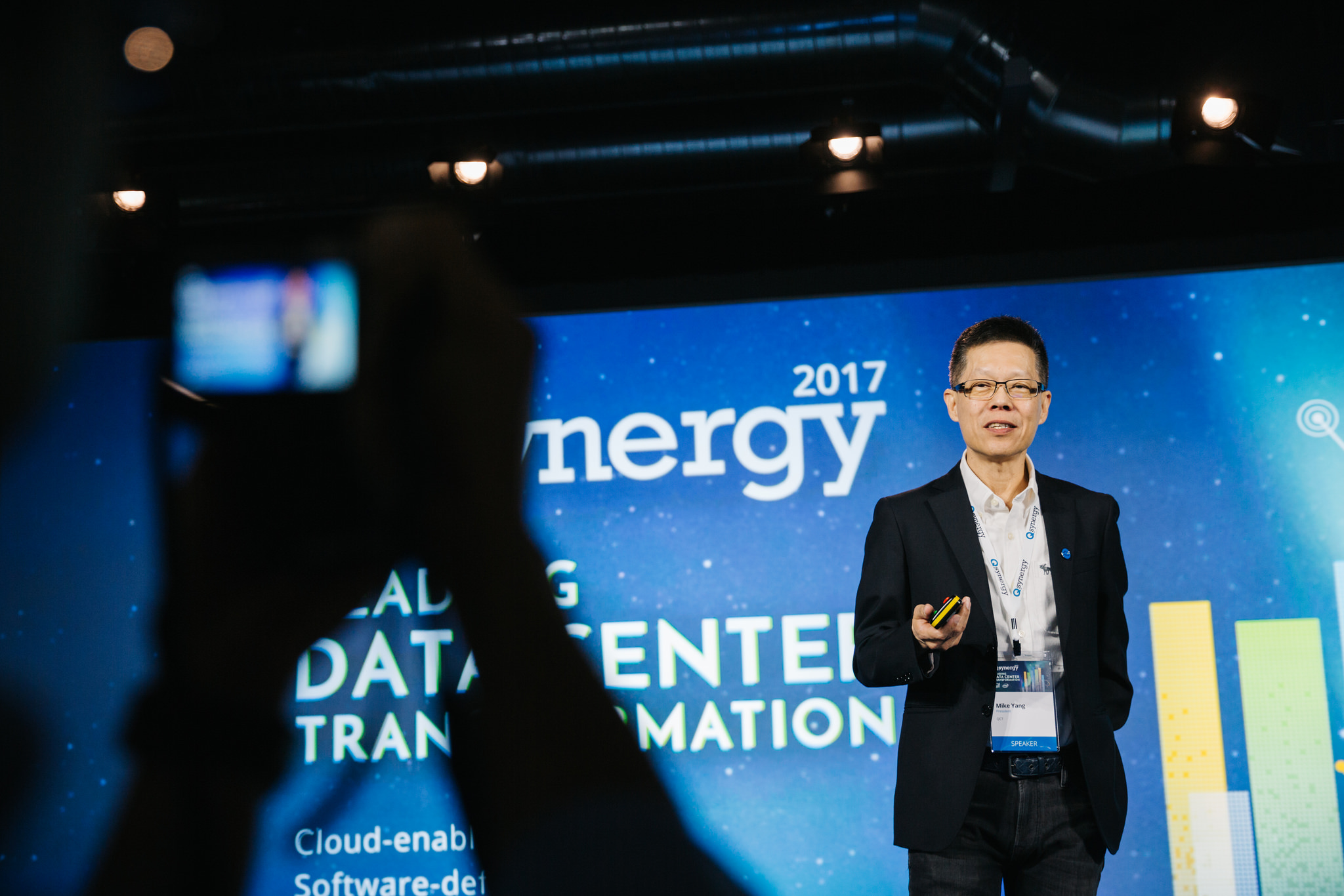 Mike Yang, President of QCT, speaks on QCT's future
However, with open initiatives we will see a rapid migration of services to the cloud. This includes migration of critical and non-critical services and applications to production systems. In terms of the cloud ecosystem, QCT is dedicated to building more open platforms to allow for continuous contributions to open-source communities, like OCP, OpenStack, OpenHPC, and OPNFV.  In his speech, Mike said, "We have contributed to open standards, whether it's 19 inches or OCP, that help drive down the hyperscale data center operation carbon footprint, and increase efficiency and accelerating "services". QCT has been enhancing our capability to make our hardware gear optimized for software-defined data centers." And this is exactly what Q.synergy is all about as it is committs to technology democratization, accelerating technology innovation, and fueling the growth of the entire cloud ecosystem.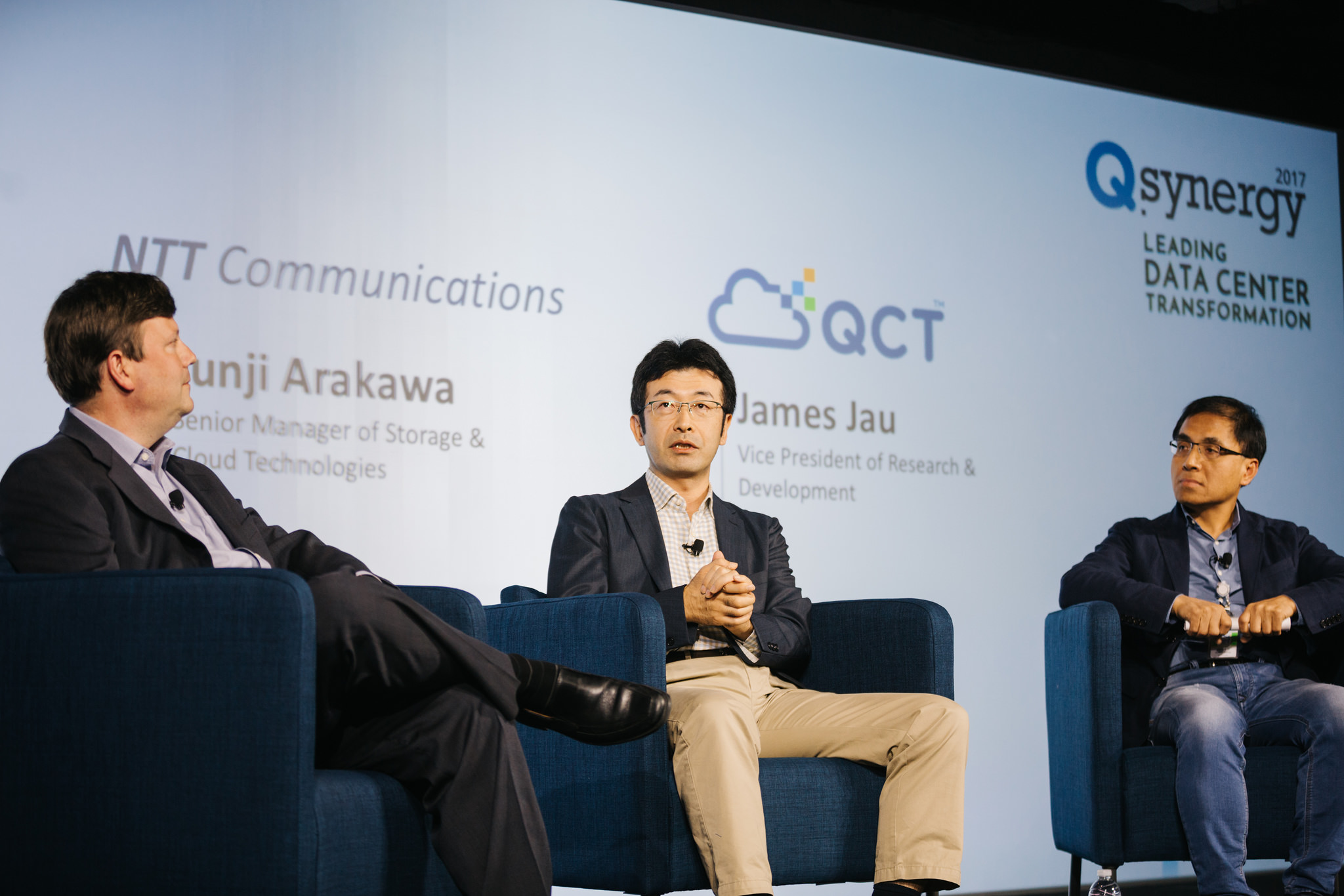 Intel, NTT, and QCT's James Jau share the stage to talk about RSD
NTT Communications also took to the stage at Q.synergy. Junji Arakawa, Senior Manager of Storage and Cloud Management at NTT, spoke on the benefits of working with QCT and their Intel Based RSD architecture.  As the demand for differentiated services creates the need for disaggregation and composability, companies will look to QCT which provides faster time-to-market, shared use of resources on-the-fly, and avoidance of vendor lock-in.  To enable CSPs to go global and telcos to enter the 5G era, they will need a such a cloud platform, which calls for a agility and flexibility. QCT, along with global carriers and other major partners, will build a cloud-based network for telcos around the world to make optimal use of the cloud, as Mike said, "With AI & 5G on the horizon, QCT will continue its cloud enabler leadership, bringing the most reliable and optimized technologies to market."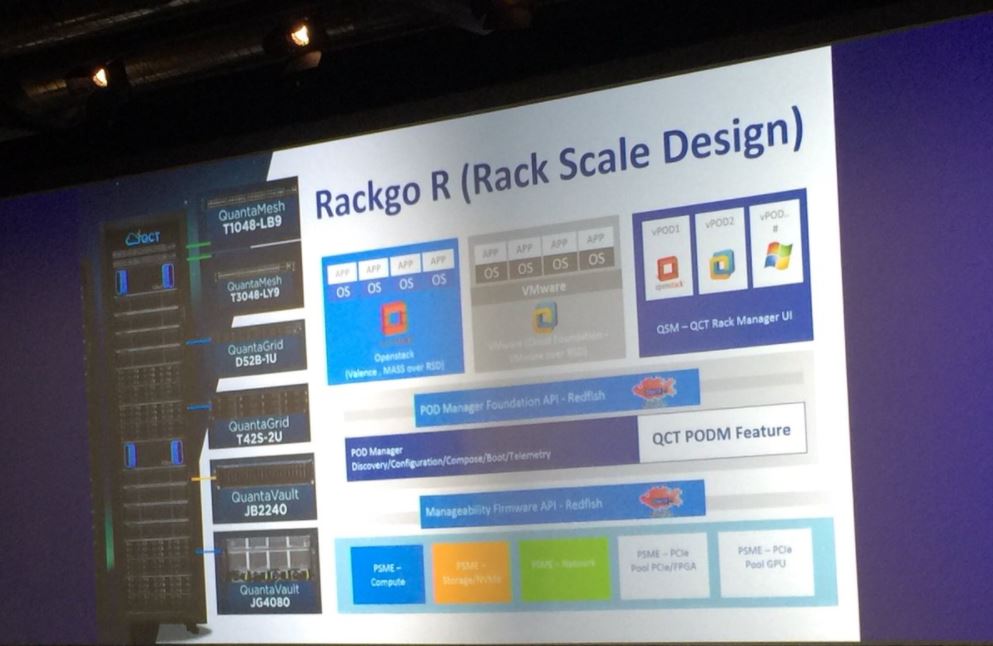 QCT Rackgo R Rack Scale Design Architecture
During today's QCT Q.synergy 2017, QCT announced the release of a series of innovative cloud solutions to help customers accelerate their journey to the cloud, The Rackgo R Solution.  The same technology NTT had just spoke on, now has an updated family of servers, network, and storage gear which can be pooled and provisioned depending on their workloads, which is the perfect fit for management of so many resources from a single-pane-of-glass. This provisioning, along with QCT's proven cloud solutions, can take the process of setting up a data center infrastructure from months to just days.
Furthermore, throughout the day, there were various breakout sessions designed to help customers address potential challenges arising from in the cloud community.  Partners like Intel, VMware, Microsoft, Red Hat, Accenture, Avanade, Tech Mahindra, The Linux Foundation, Affirmed Networks, and Open Networking Foundation (ONF) all held workshops pointing towards a cloud-enabled future and paving the way way forward. Fireside chats concluded the day's agenda with takeaways and industry best-practices.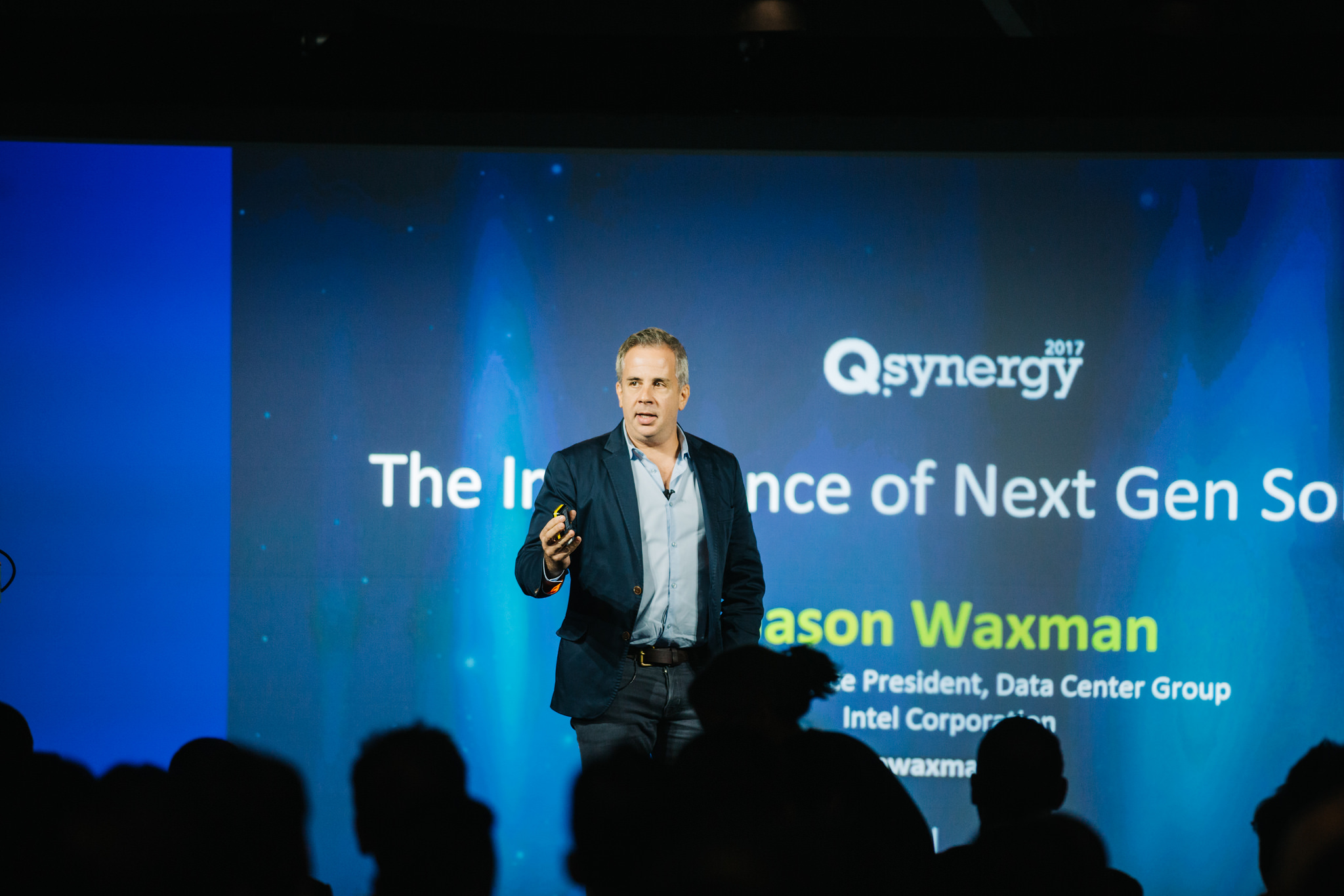 Jason Waxman, Intel DCG Vice President, speaks on RSD and Intel's commitment to QCT
To cap things off, the reception at the 49ers' Museum brought guests together in a relaxed setting to exchange thoughts and ideas with their peers.Overall, the event was a success and QCT thanks everyone who attended.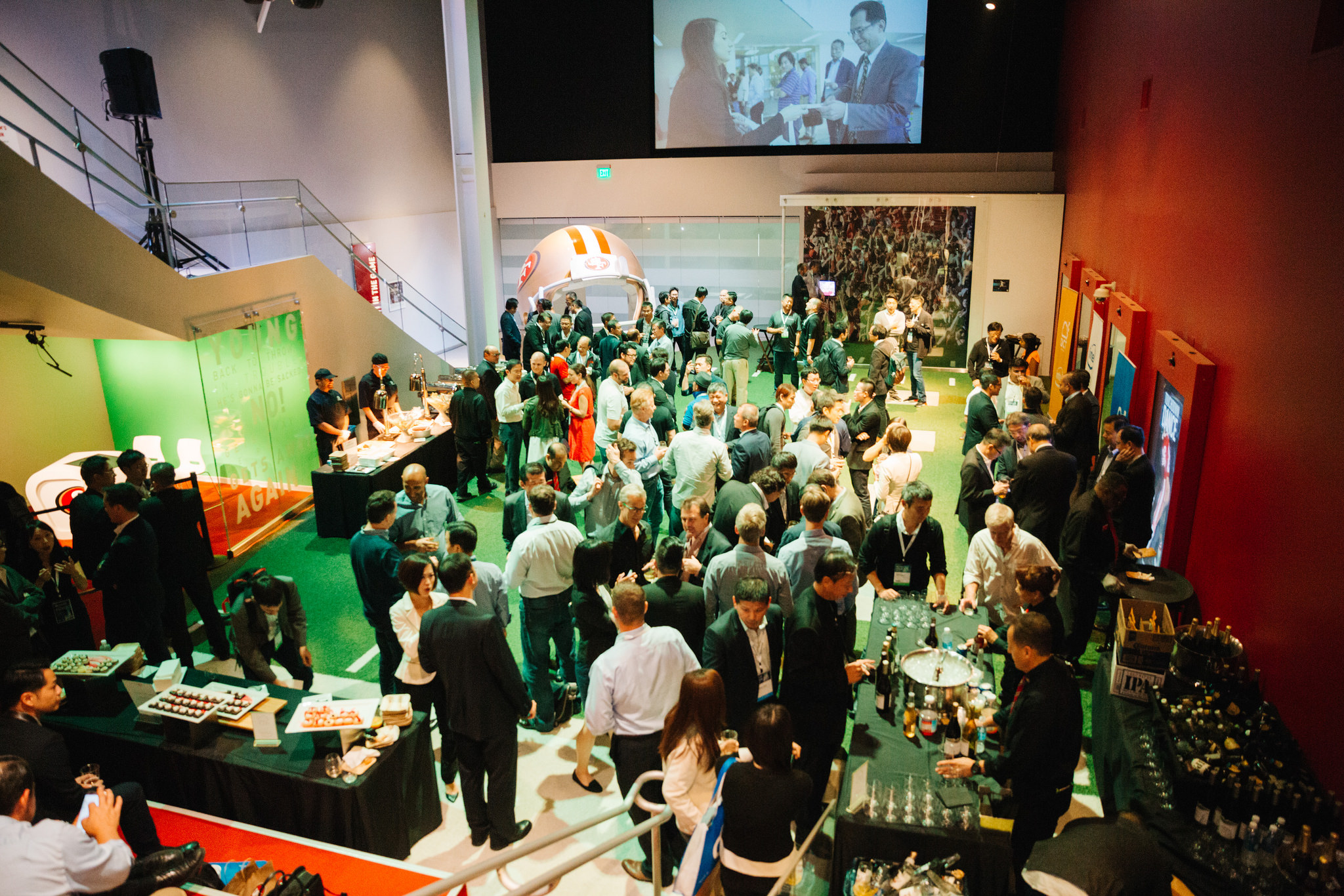 Reception at Levi's Stadium at the 49ers Museum
QCT Q.synergy 2017 was held on October 26, 2017 in San Jose, California, in the QCT Solution Center. It was attended by industry leaders who discussed how to kick off synergistic conversations, and how to lead data center transformation in their industries. For more information, please go to http://www.qct.io/microsite/Qsynergy/index.html.