Organizations and developers face a variety of issues in developing and testing HPC and AI applications. Challenges they face can range from simply having access to a wide variety of hardware, frameworks, and toolkits to time spent on installation, development, testing, and troubleshooting which can lead to increases in cost.

Quanta Cloud Technology (QCT), a global data center solution provider, works with Intel to offer solutions that combine the efficiency of hyperscale hardware with infrastructure software for diverse industries. QCT has years of expertise in providing end-to-end HPC and AI solutions for companies. Recognizing that developers may encounter various obstacles in the development process, QCT collaborates with Intel and has developed its QCT DevCloud Program to help customers resolve these challenges and gain insights into customer usage scenarios, ultimately providing customers with better service.
QCT DevCloud is a comprehensive HPC/AI/DA development environment that allows users to experience QCT's offerings, including remote access to the latest hardware platforms to alleviate resource constraints. It also provides dedicated infrastructure experts for system evaluation and optimization support, along with a development software stack to streamline the software installation and application build process, ultimately reducing time-to-development for developers and researchers.
QCT DevCloud provides an HPC & AI heterogenous platform
QCT DevCloud provides access to the latest hardware platforms inclusive of compute, storage and networking. It also supports different generations of CPU and GPU environments to meet workload evaluation demands. Cloud-native and baremetal environments for both HPC and AI workloads are available with resource and job management tools. Powered by Intel® Xeon® Scalable processors , users also gain the built-in features of Intel® Software Guard Extensions (Intel® SGX) and Intel® Advanced Matrix Extensions (Intel® AMX), which enhance the security level and accelerate the development of HPC and Al technologies. Under a heterogenous environment, QCT DevCloud truly relieves user's resource limitations for development, evaluation, and testing.
QCT DevCloud includes a comprehensive development software stack
QCT DevCloud allows user access to QCT's software stack where users can try a variety of tools without spending time on installation, to speed up the development and testing process. Included as part of the DevCloud Program, Intel® oneAPI and its toolkits also offer a powerful software stack, increasing productivity for their development journey. Available development toolkits, frameworks and compilers are included for popular computational environments such as JupyterHub and development tools like Paraview and LMOD. QCT precompiled workload packages with pre-defined parameters are also available for molecular dynamics, computational fluid dynamics, quantum chemistry, and numeric weather predictions. QCT DevCloud also provides management tools that allow for real-time control and monitoring of the system.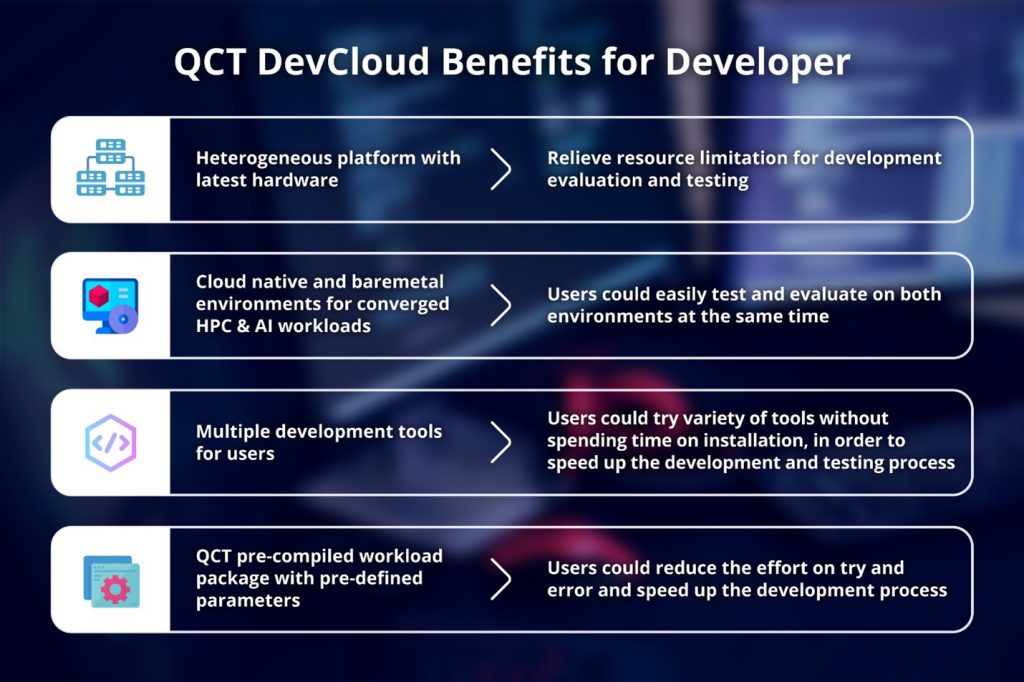 Conclusion
Developing and testing HPC and AI applications is difficult because developers must install, test, and troubleshoot using a wide variety of hardware, frameworks, and toolkits that they may not have direct access to. Using QCT DevCloud makes this process easier, providing developers with access to multiple QCT hardware platforms, precompiled workloads, and development toolkits. Therefore, without having to procure all the hardware/software in hand, businesses are able easily test, develop, and evaluate workloads in a heterogenous QCT cluster that results in better time and cost savings.
Experience QCT DevCloud Program now!
Go to https://go.qct.io/qct-pod/qct-devcloud-program/
Intel, the Intel logo, Optane, and Xeon Inside are trademarks or registered trademarks of Intel Corporation in the U.S. and/or other countries. All trademarks and logos are the properties of their respective holders.
---