Key publication explores QCT's history and the company's cooperation with Rakuten
QCT has strengthened its role as a 5G ecosystem enabler these past few years. This company works with industry leading partners to drive fundamental changes in the way telco operators plan, deploy, and manage their infrastructure. It also supports innovative NFVI and virtual network function (VNF) technologies, products, and solutions to realize a truly software-centric network infrastructure for next generation central offices (NGCO), converging fixed-line and mobile networks on a unified platform.
QCT's commitment has been recognized by key media such as Fierce Wireless (Fierce Telecom Group), which acknowledges QCT's role in a byline, stating that "QCT won a starring role in Rakuten Mobile's network build" and that QCT has risen as a powerful contender to server vendors worldwide.
QCT's 5G Technologies Ready for Market Introduction
In order to enable future-oriented 5G applications and services, telco operators have long been looking for innovative performance-optimized infrastructures and platforms built with open technologies at a lower TCO. These are the key principles of QCT's vision for the Next Generation Central Office (NGCO) and its advanced version 5G Data Center (5GDC).
As 5GDC was ready for market introduction, QCT invited Fierce Wireless to present its new solutions. The Fierce Telecom group serves as the telecommunications industry's daily monitor. The independent team of experienced editors specializes in insights and analysis on the broadband connectivity that is driving change across all telecom networks. As the Fierce Telecom group offers a clear view into the inner workings of the global telecommunications backbone, it is a good conversation partner for QCT.
In a telephone briefing, Linda Hardesty, Editor in Chief, Fierce Telecom Group, had a conversation with Howard C. Wu, VP & Global Head of Networks and General Manager USA at QCT. This interview was later published at the Fierce Wireless website under the title of "QCT gains recognition in telecom via Rakuten."
QCT's Broad Expertise Attracts Large Players
The text explores QCT's origin as a subsidiary company of Quanta Computer Inc., which manufactures one third of all the laptops in the world. Quanta branched into cloud in 2006 and got a big reception into the business when it was approached by Facebook for procuring servers which really kicked off their cloud direction. According to this article, QCT has worked with some of the world's largest cloud service providers since then, and has learned a lot about deploying massively scaled infrastructure in cloud data centers.
In the interview, Howard Wu made clear that it was this vast experience, these capabilities and expertise that triggered Rakuten's interest and motivated them to partner with QCT. QCT holds a unique position in the industry. It not only designs and makes its own products, but also manufactures products that its customers have designed. In other words, QCT is both an original equipment manufacturer (OEM) and an original design manufacturer (ODM).
Collaboration with Rakuten
QCT collaborated with Rakuten to help provide the world's first fully virtualized cloud native mobile network. In addition to hardware manufacturing, QCT worked with Rakuten's software vendors to integrate everything. Howard Wu explains in this article that the QCT project team worked with various prominent companies to complete software-hardware integration in all system levels across operations and management.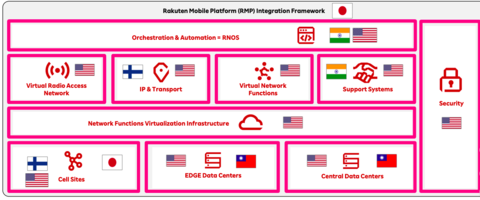 Connection with O-RAN Alliance
QCT also partners with the O-RAN alliance. According to Howard Wu, QCT's connection with O-RAN can be traced back to its involvement with Facebook, which is one of the founding members of the Telecom Infra Project (TIP), and has brought QCT into the telecom ecosystem. The circle was complete when TIP and the O-RAN Alliance announced a liaison agreement to ensure their alignment in developing interoperable open RAN solutions. Linda Hardesty's article explains how O-RAN's goal of decoupling also aligns closely with QCT's business, as QCT understands how telecom providers operate and how they want their hardware to look.
In a word, QCT has grown into a 5G ecosystem enabler for telco providers, using cloud-based technologies, products, and solutions to help them modernize their IT infrastructure to achieve higher flexibility with greater cost-effectiveness. More information on these 5G solutions can be found at: https://go.qct.io/telco/.
Read the full article on FierceWireless: https://www.fiercewireless.com/tech/qct-gains-recognition-telecom-via-rakuten
Follow QCT on Facebook , LinkedIn and Twitter to get the latest information and product announcements.